About series
Edit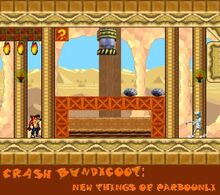 "Crash Bandicoot: New Things of Parbounli" are second Ecabacer's series. Series are grouped to 6 parts, everyone have 3-5 levels. Also, it's an interesting story about Uka Uka invasion to Parbounli lands and saving them. Series starts at 12th September and will becomes as the last series in 2015 years.
Parts & levels
Edit
Part 1: Beginning forest Edit
| Chapter & level name | Short story | Link |
| --- | --- | --- |
| Chapter I: Early days in green forest | Crash beginning of saving Parbounli lands occupied by Uka Uka | Coming soon |
| Chapter II: Red gem sewers | Crash find Red gem in sewers and escapes from them | Coming soon |
Part 2: Cold Parbounli lands
Part 3: Fishing underwater
Part 4: Uka Uka desert
Part 5: Destructing water
Part 6: Final hot days
What do you need to collect in these series?
Edit
This is the list of items you can collect when finishing level:
Crystals (20 crystals in 20 levels) (26.85% all items)
Red gems (5 red gems in 5 levels) (6.65% all items)
Relics (Sapphire, gold and platinum) (25 relics in all levels) (33.25% all items)
Clear gems (collect them by clearing all ? and basic crates) (25 clear gems in all levels) (33.25% all items)
Ad blocker interference detected!
Wikia is a free-to-use site that makes money from advertising. We have a modified experience for viewers using ad blockers

Wikia is not accessible if you've made further modifications. Remove the custom ad blocker rule(s) and the page will load as expected.