Crazy Toad's Ultimate Coin Adventure! 
is the second series developed by
Kuzonx2
on Pouetpu games. It was created in July 2013. It is mainly played on 
http://brokenace.weebly.com/super-toad-flash.html
.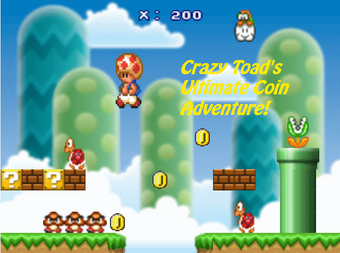 The original plot was that Toad had fell in love with another Toadette, and wanted to collect money (coins) to impress her. It is unknown if this plot is still in place or if Toad had simply "gone freaky" for coins as it says in the description on (1/1) of he website.
It has 5 worlds: Grassland, Forestland, Iceland, Pipeland, Darkland.
Ad blocker interference detected!
Wikia is a free-to-use site that makes money from advertising. We have a modified experience for viewers using ad blockers

Wikia is not accessible if you've made further modifications. Remove the custom ad blocker rule(s) and the page will load as expected.