SPOILER ALERT!
This page will tell everything about this series, and show spoilers! If you don't want to be spoiled, please click the back button!
Far Future Blackout is a level series by BF10. It is based off levels in the Far Future. It released in November 2014.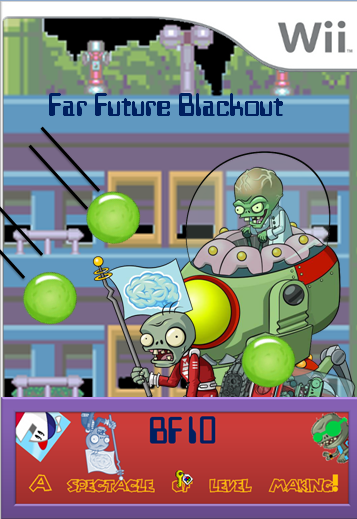 Mario was planning to see what was going to happen in the future. When he found out, it was pretty bad - the Zombot Tomorrow-Tron terrored the land! In order to restore peace to the land, Mario is sent to the Far Future to stop Dr. Zomboss's troops.
Objectives were introduced in 1-2, and they were used in order for the player to achieve, otherwise the player will "lose" the level. At the same level, Boom Boom the Future Kaiju was fought.
On level 1-Castle, Mario fights the Bug Bot Imp, and afterwards, the Imp was finally defeated. However, Dr. Zomboss threatens Mario and told him he killed Crazy Dave and blew up the Mushroom Kingdom, and defeating the Shield Zombie would restore peace. Mario then goes after the Shield Zombie.
On level 2-2, the level is underwater, and Penny - Crazy Dave's former time traveler about the controls underwater. Eventually at the end, Future Snorkel Zombie was there, but it was wrecked.
On level 2-6, Giga-Football Zombie has caused a dragon - Trogdor, alive and wreck havoc.
The rest will be told when more levels release.
1-2: Boom Boom the Future Kaiju
1-3: Coin Generator
1-Caslte: Bug Bot Imp
2-2: Future Snorkel Zombie
2-Bonus: 8-Bit Mega Zombie
2-4 and 2-Castle: Shield Zombie
2-6: Giga Football Zombie
The Symbaloo for it is here: Levels
World 1 (Grassland Hills)
Edit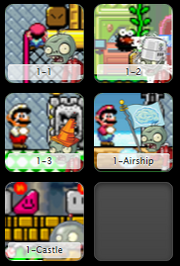 1-1: Foggy Home Lab
1-2: Grassland Farhills
1-3: Coin Valley
1-Airship: Zomboss's Airship Deck
1-Castle: Bug Bot Imp's Castle
Average Grade of World: 91/100
World 2 (Neon Nights)
Edit
2-1: Pool Polices
2-2: Underwater Fortress
2-Bonus: 1985!
2-3: Heavy Harbor (tag with Luigibonus)
2-4: Shield Zombie's City Takeover
2-5: Stony Ghosthouse (under construction)
2-6: Trogdor Alive!
2-Airship: ?
2-Castle: Shield Zombie's Castle (not started)
Current Average Score: 97/100
This level series was based from the area Far Future in Plants vs. Zombies 2: It's About Time!
Only 1-1 through 1-Airship had their names told.
A contest was originally held for level 1-3 to see how less time and how many coins in November 2014, but it was the same month BF10 retired. It was cancelled when he returned.
Grassland Hills is based on BF10's first SMF1 level.
Neon Nights is based on Neo Edition, a SMF2 hack.
Level 2-Bonus used to be a SMF1 level with 2500x in the Main level, and 0x in the Bonus, but it was too short and was removed a few minutes. The Symbaloo was updated, and clicking on Under Construction (2-Bonus) would link to BF10's profile. It was changed into a SMF1 hack level the next day.
Ad blocker interference detected!
Wikia is a free-to-use site that makes money from advertising. We have a modified experience for viewers using ad blockers

Wikia is not accessible if you've made further modifications. Remove the custom ad blocker rule(s) and the page will load as expected.