About him
Edit
Ecabacer

Age

13

Homeland

Siauliai, Lithuania

Active

Almost always

Status

Challenging Parbounli
Ecabacer was joined in 24th December in 2014 years as MagicOTD. He was changed his name to Ecabacer in 29th August. He is almost always active, have over 50 levels, 1000 rates and 67 friends.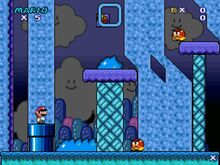 About series and single levels Edit
His first series is "Super Parbounli Bros". 7 levels was moved to good section, so, later, he started to repost levels moved to good section as 2.0 version levels. He started making second series named "Crash Bandicoot: New things of Parbounli". He have only 4 single (custom) levels:
Green underground
Green nature
Nature of Lithuania
13th birthday special level
Series list Edit
Super Parbounli Bros (37 levels)
Crash Bandicoot: New things of Parbounli (25 levels) (Premiere at 12th September)
Crash Bandicoot: New Things of Parbounli
Edit
About series read here: http://pouetpu.wikia.com/wiki/CB:_New_Things_of_Parbounli
"Parbounli alliance"
Edit
In 13th July created "Parbounli alliance". Alliance created because Ecabacer (then MagicOTD) needed to create a friend community in one team. But he retired from level posting and nobody, so, he "took a break from PG". During his "inactivity", he gave leader position to lord J. Lord J is now a "Parbounli alliance" leader from 30th July. Alliance have rules (who everyone should follow) and bonuses (who allies get from leader). Now "Parbounli alliance" have 7 members (allies):
Ecabacer (alliance creator, former leader)
InsaneSanic
lord J (alliance leader)
Racer812NE1
przem1994
BrawlerDayComics
JJ7
wolfforthewin
Ecabacer is now making badges for great and hard jobs. He planned to create 30 badges and post them after working on last. Only allies (alliance members) will can post them to his/her profiles. Currently finished 15/30 badges but he stopped making badges at the moment. Badges will be based in 2 groups:
Community badges
Working badges
He planning to hold 1st question contest about his "CB: NTOP" series.
He created "Parbounli alliance", a friend community in one team.
Ad blocker interference detected!
Wikia is a free-to-use site that makes money from advertising. We have a modified experience for viewers using ad blockers

Wikia is not accessible if you've made further modifications. Remove the custom ad blocker rule(s) and the page will load as expected.