Super Mario Flash 1: Pyrogenic Edition is a Super Mario Flash hack developed by Luigibonus, and was released on 27th of June. It is also the first fire themed hack on Pouetpu-games.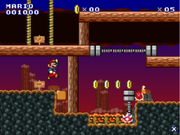 The theme of the hack is Volcano/Lava/Fire themed, though, there are different Volcano themes in this hack.
This hack has Volcano Tiles, Airship Tiles, Athletic Tiles and more tilesets! It also offers new different types of blocks like the new Brick Blocks.
The hack can be used for fire themed levels, or a Volcano world for a level series!
Here are all the background themes in order:
Volcano Lands
Inside Volcano
Lava Cave
Lava Athmosphere
Volcano Overworld
Volcano Night
Alot of music fit for all themes. In this hack, you can almost always just choose the music you like no matter what background!
Super Mario Flash 1: Pyrogenic Edition is Luigibonus' first Super Mario Flash 1 hack.
This hack is the first and only fire themed hack existing.
Pyrogenic Edition also makes use of Hex Editing since the latest update (V1.2)
External Links
Edit
Super Mario Flash 1: Pyrogenic Edition on Luigibonus' website.
Ad blocker interference detected!
Wikia is a free-to-use site that makes money from advertising. We have a modified experience for viewers using ad blockers

Wikia is not accessible if you've made further modifications. Remove the custom ad blocker rule(s) and the page will load as expected.