Aced Edition is one of the actual six game hacks released by BrokenAce. The style of the hack is based on the New Super Mario Bros game (made by Nintendo), using real sprites and tiles from the game. The hack is an alternative design version of Super Mario Flash 2.
Aced Edition is maybe the first hack made by BrokenAce, and one of the first hacks developed before the 2.1 version of Super Mario Flash 2.
For now, this is the only hack from BrokenAce which isn't updated to the 2.1 version released by Pouetpu, for that reason, the hack hasn't a Custom Background option.
The hacks presents the following changes:
10 new backgrounds made by BrokenAce
Almost all tiles changed with the NSMB style, with only 16 of them being normal tiles from SMF2.
Some sprites changed, showing enemies style from NSMB. Chucks, some koopas, plants and some other enemies were not changed.
13/17 new songs from other games.
Reception
Edit
The Pouetpu-games community and hackers found this hack creative and good overall, however, some of the users critizised the usage of some music, the backgrounds (where one of them makes cut-off) and its version which isn't updated.
According to BrokenAce, the purpose used for this hack was good, however, he's not convinced with the final results.
BrokenAce is planning on removing this hack.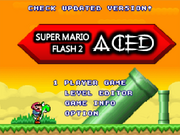 External links
Edit
Super Mario Flash 2: Aced callum
Ad blocker interference detected!
Wikia is a free-to-use site that makes money from advertising. We have a modified experience for viewers using ad blockers

Wikia is not accessible if you've made further modifications. Remove the custom ad blocker rule(s) and the page will load as expected.