Супер Марио Flash 2: Ultimate Edition является Супер Марио Flash 2 хак, сделанный и разработанный BrokenAce. Рубить в настоящее время использует Super Mario Flash 2 2.0, а это означает, что нет ни одного персонализированного фона или новые плитки в этом хака .

Themes
The hack features the follow
☀https: //yandex.ru/video/search текст = Super% 20mario% 20flash% 202% 20ulhimahe% 20erihion% 20hackeding темы:
Space
Forest (Outside)
Forest (Inside)
Inside Airship
Cave
Underwater Castle
Castle
Bonus лес
Night
Back in the day, this was one of the most used hacks. This hack came out after Super Mario Flash 2: Aced Edition, and it showed alot of improvements, way less cut-offs and more fitting tiles for the themes. However, later, new hacks came out and users used those hacks more. When Super Mario Flash 2 2.1 came out, BrokenAce didn't want to update because Ultimate Edition was old. Even though a lot of users requested this, Ultimate Edition is still 2.0.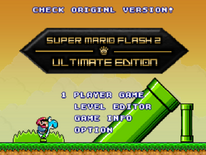 Ultimate Edition was one of the most popular SMF2 hacks.
Most of the sprites in Ultimate Edition are themed about Super Mario Bros 3/Super Mario Advance 4.