Wario Land Flash is a Hack of Super Mario Flash 2 created by TheRussian, and is almost entirely Wario Land 4-themed. Nintendo character Wario replaces Mario as the playable character in this game. It can be played here.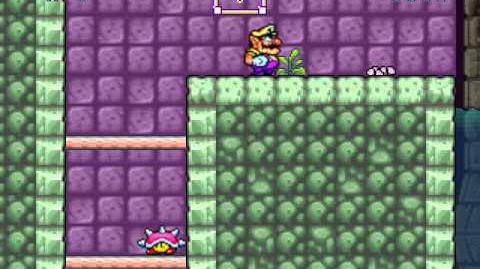 Backgrounds
Edit
Wario Land Flash uses with 9 different backgrounds from Wario Land 4. The following is a list of the sources of each background:
Title Screen
Palm Tree Paradise
Monsoon Jungle
Crescent Moon Village
Hall of Heiroglyphs
The Big Board
Legendary Pyramid (Used in Cutscenes and not an actual level in Wario Land 4)
Puzzle Room 
The Curious Factory
Since Wario Land Flash is Super Mario Flash 2 version 2.1, the custom background feature is also functional; several additional backgrounds from Wario Land 4 are available on the same website that Wario Land Flash is posted on here.
With the exception of Music 10, which comes from Wario Land: Super Mario Land 3, all of the game's music comes from Wario Land 4. Music 3 and 11 are spliced from the same track. Music 13 and 14 are not in the game's OST, but counted as sound effects, and are given conjectural titles. Music 12 is partially fanfare in the OST and partially a sound effect.
The Big Board
Palm Tree Paradise
Hurry Up!
Hall of Heiroglyphs
Toy Block Tower
Crescent Moon Village
The Toxic Landfill
Puzzle Room
Golden Diva
Invincible Wario (From Wario Land: Super Mario Land 3)
Hurry Up!
High Score
Ending Jingle
Level Loss
Boss Battle
Work It!
Inside the Pyramid
Door to Next Stage Opens
Wario Land Flash was the first hack to use the Shape Editing technology, which allows changing of the sizes of sprites. This causes some sprites, particularly the replacements for Yoshi and Boom Boom, to have sprites significantly larger than their hitboxes.
While Wario Land Flash is mostly Wario Land 4-themed, the hack also uses the Invicibile Wario music and Garlic Bottle sprite from Wario Land: Super Mario Land 3 and also features Wario-Man from the WarioWare series as the replacement for Fire Mario.

The reason for the invincibility music being from Wario Land: Super Mario Land 3 instead of Wario Land 4 and the Starman's sprite being unaltered from Super Mario Flash 2 is that Wario Land 4 has no form of invincibility power-up.

Small Wario has uses Wario's map sprite in Wario Land 4 and has several custom sprites for movements Wario did not make on the map. Wario-Man, Fire Mario's replacement, uses custom sprites exclusively, as Wario-Man was not featured in Wario Land 4.
Although Wario has many transformations in Wario Land 4 similar to power-ups and conventional power-ups in Wario Land: Super Mario Land 3, only one of Wario's transformations, the only one to actually appear as a power-up in Wario Land Flash is Puffy Wario, which replaces Cape Mario.
Related Media
Edit
Ad blocker interference detected!
Wikia is a free-to-use site that makes money from advertising. We have a modified experience for viewers using ad blockers

Wikia is not accessible if you've made further modifications. Remove the custom ad blocker rule(s) and the page will load as expected.